Kingwood Landscaper
Meeting All Your Landscaping Needs
Need a landscape "facelift"?
Custom Landscape Company has earned the reputation as Houston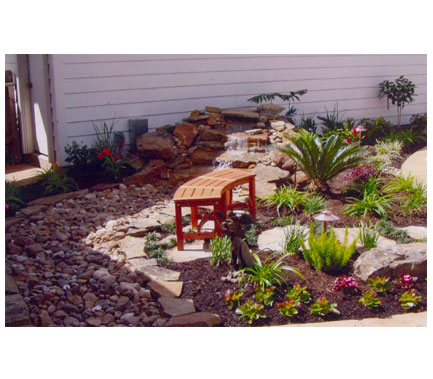 area's premier residential landscape and irrigation company. Our quality, creativity, and over 16 years experience has helped us become Kingwood top residential landscape services company.
We can take care of almost any landscaping issues you may have.
Drainage

When it rains, are you left with standing water around your flower beds, lawn, walkways, patios and/or pool areas, or near your home's foundation?

Hardscape

Patios and walkways can add continuity and flow between your house and garden. Such architectural additions to your landscape can be created from stamped concrete, brick, wood, or from concrete pavers and stone.

Irrigation Installation

An effective irrigation system is often a crucial feature in your landscape. A poor watering schedule or no watering schedule can lead to poor plant growth or dead and dying plant material.

Repair -

Our Irrigation team can install a new irrigation/sprinkler system for you. We can also help you to refurbish, maintain, or extend an existing irrigation system.

Landscape Design

Our design team can do more than just draw up a landscape design plan for plants and trees; we can create a full master plan for your entire property.

Landscape Installation

Landscape Lighting
No matter how large or how small, we can transform your property into an inviting environment and botanical paradise.
Do you have an area of your house that is an eye sore? Let us provide a unique solution to your problem.
Whether it is drainage issues, maintenance requirements, elevation changes or aesthetics, our design concepts will encompass a relevant solution to each problem while incorporating a professional eye for a beautifully balanced landscape.
We are committed to ensure that our landscaping design and installation grows more beautiful with each passing year.
Our goal is to install the most uniquely beautiful landscaping available - and keep it that way!
Thank you for visiting our website. The following pages are a work in progress and I'm slowly updating the pages as time goes on.